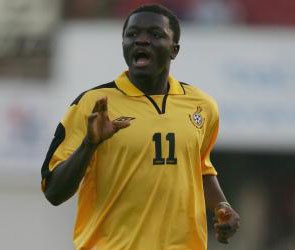 Mon, 10 Dec 2007 Source: Pompeyrug
I am man enough to admit when I am wrong - even though I had seen what he could do - but since arriving I had not really rated Sulley Muntari's shooting... until the weekend when he proved not only me and many others, but also his team mates - Sylvain Distin in particular - wrong when he scored 'just your two' belters against Villa...

Muntari admitted to The News that Distin - among others - gives him a hard time over his shooting: 'when we train I try to shoot as often as possible.


'Sylvain Distin keeps teasing me saying I shoot from every angle and I don't pass.


'But I scored two this time and it was important.


'When I train they often go high but this time they went lower and into the net so I'm happy'.

In fairness Sulley it has not just been in training that they have 'often' gone high :-)


On the way up to Villa Park on Saturday I told my friend Fry, who was acting as chuffer that Muntari's shooting was awful and if he hit the target 1 out of 10 times he would be lucky, he sure showed me didn't he as he not only hit the target twice from his two efforts he scored with both!


I have always rated the fella but his finishing has been from the Nigel 'the relegator' Quashie school of finishing most times this season... all too often he appeared happy to leather the ball as hard as he could and hope, but on Saturday he appeared far more composed with his shooting didn't he and scored the two crackers.


Hopefully from now on we can see this kind of finishing more often from Muntari and the 'Quashie' technique has been abandoned.

Source: Pompeyrug
Related Articles: