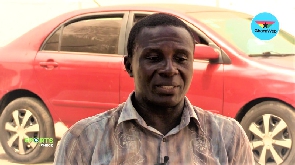 Former Hearts of Oak skipper Amankwa Mireku has chosen teammate Emmanuel Osei Kofi as the best of the 64 Batallion squad.
The squad was loaded with top notch performers including Mireku, Bernard Don Bortey, Charles Taylor, Ishmael Addo, Adjah Tetteh among others.

They won several laurels with the utlimate being the 2000 CAF Champions League and then the crux of that squad also went ahead to win the 2004 Confederation Cup.

There have been debates across media platforms as to who was the best player amongs the lot. Opinion givers have circled around both Taylor and Dong Bortey in deciding who is better.
But in the case of Amankwa Mireku, Emmanuel Osei Kuffour (General) gets the nod ahead of Bortey and Taylor.

Speaking to Tru FM, Mireku stated that Kuffour's football IQ was way above his teammates and none comes close to him.

"I will choose Emmanuel Osei Kuffour as the all time best player because he was brilliant than the other players. His intelligence in football was very high that's why I chose him as the best player".