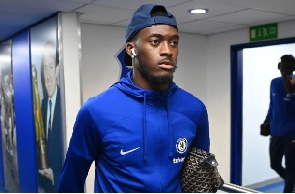 Ghanaian winger, Callum Hudson-Odoi has opened up about his tough decision to leave Chelsea during the summer transfer window.
The 22-year-old, who spent the previous season on loan at Bayer Leverkusen, made a late move to Nottingham Forest on transfer deadline day, ending his 16-year association with Chelsea.

For Hudson-Odoi, leaving Chelsea was a momentous decision, one that carried significant emotional weight. He acknowledged that he initiated the move, recognizing that his opportunities for playing time at Chelsea were likely to be limited.

"Chelsea has been my home for a very long time, and knowing it was time to go was emotional," Hudson-Odoi shared in an interview with The Telegraph.

"It was difficult; we had conversations, but I thought it was best if I leave. It was a mutual agreement, but I'd say it was more my decision. Forest is the right place for me to excel in my football and do more than I probably could at Chelsea. I want to be playing as much as possible," he added.

Hudson-Odoi is now poised to make his debut for Nottingham Forest, with the East Midlands club set to face Burnley in the Premier League on Monday night.
His departure from Chelsea marks a new chapter in his career, and he's eager to make the most of the fresh opportunities presented at Forest.

Click here to start the nomination process for the 2023 GhanaWeb Excellence Awards

Ghana's leading digital news platform, GhanaWeb, in conjunction with the Korle-Bu Teaching Hospital, is embarking on an aggressive campaign which is geared towards ensuring that parliament passes comprehensive legislation to guide organ harvesting, organ donation, and organ transplantation in the country.

JNA/KPE