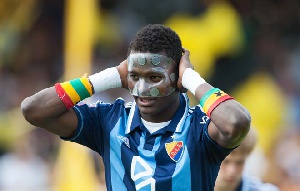 Willie Klutse who is the technical director of International Allies football club says he is proud of Daniel Amartey's rise to the summit of world football.
Amartey joined Leicester this January transfer from Danish club FC Copenhagen.

The 21-year-old's move is of interest because of his touching story of making it to England in only three years of being in Europe.

Willie Klutse a man credited with developing Amartey's craft says he is filled with pride on the rise of the Ghana international.
"When Amartey started football I kept telling him he was a star and as at that time he never believed it," Klutse told etv.sports

"Now I am very proud that just three years after he left to Europe he is going to be playing in the world's best league."

"That is football for you all i can say is that he has the ability to go to the very top."