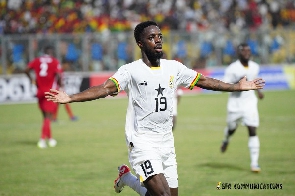 Sat, 18 Nov 2023 Source: Isaac Bediako Justice, Contributor
Athletic Bilbao forward Iñaki Williams silenced his critics in spectacular fashion during Ghana's hard-fought triumph over Madagascar in the 2026 World Cup qualifiers on Friday.
The 29-year-old, who had been under scrutiny for lacklustre performances since his national team debut, seized a pivotal moment to net the winner, securing his inaugural goal for the Black Stars at the electrifying Baba Yara Stadium in Kumasi.

Ghana, initiating their 2026 World Cup qualification campaign with suspense, clinched a 1-0 victory thanks to Williams' stoppage-time heroics in the first Group I fixture.

This marked a significant milestone for the Basque-born player, breaking his international goalscoring duck amid the passionate support of Ghanaian fans.

The goal not only propelled Ghana to a crucial win but also served as a personal triumph for Williams, who had faced persistent criticism.
Eager to capitalize on this breakthrough, he expressed confidence that the goal would open the floodgates for more successful strikes in the future.

As the Black Stars prepare for their next challenge, departing Ghana for a clash against Comoros on Tuesday, November 21, 2023, at the Stade Malouzini in Moroni, Williams is determined to continue his newfound scoring momentum.

With the weight of the goal drought lifted, he looks forward to contributing further to Ghana's World Cup aspirations, fueled by the support of both his team and the spirited fans rallying behind him.
Source: Isaac Bediako Justice, Contributor