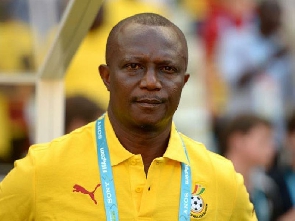 Former Black Stars coach, James Kwasi Appiah has recounted reasons he didn't enjoy working under Dr. Kofi Amoah's tenure as the president of the Ghana Football Association's Normalization Committee.
The renowned businessman was head of the committee set up by FIFA and government in 2018 to oversee football administration at a time Kwasi Appiah was manager of the Black Stars.

The former skipper of the team said he didn't enjoy a good relationship with Dr. Amoah because the latter tried to force his wishes on him.

Upon his refusal to do Kofi Amoah's bidding, Kwasi Appiah told Joys Sports in an interview that he was threatened with losing his job and a potential salary reduction.

"He threatened to sack me but I told him I am not afraid of being sacked. Those threats, I have heard them several times but I'm not the type that those threats get to me," Appiah said on Prime Take with Muftawu Nabila Abdulai on the Joy News channel on January 22.
"He had a conversation with me about my contract and he was thinking of reducing my salary, but I told him look, you can't reduce my salary, then he should take the job.

"He thought I didn't deserve the [$35,000] salary I was on and when you do that, you are disrespecting whoever you are dealing with," Kwasi Appiah added.

Meanwhile, James Kwasi Appiah has confirmed that he has applied for the vacant Black Stars coaching job as he hopes to handle the team for the third time in his career.