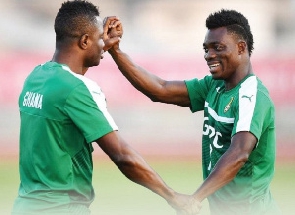 Ghana international Mubarak Wakaso has said his final goodbyes to his close pal, Christian Atsu at his burial service.
The 2015 AFCON best player died tragically in Turkey following a massive earthquake that hit the European country on February 6.

Atsu's body was pulled out of the rubble 12 days later after continuous search.

"It's so difficult for me to express in words how I am feeling. Since hearing about the earthquake on 6th February, had hope that you were still alive. I never believed that this hope would turn into sadness. You were my everyday guy, my friend, my brother. We played together, we laughed together we ate together.

"You were someone who I trusted in everything because in a good or bad situation, you was always there for me. I have been here just looking at our pictures, reading our messages, watching our videos.

All I have now is the memories in which I will cherish forever. Rest in perfect peace, Love from your brother Wakaso Mubarak," he said.
The winger had spells with several clubs before his untimely death, featuring for FC Porto, Rio Ave, Chelsea, AFC Bournemouth, Everton and others.

His final contribution to the game was scoring the winner for Hatayspor in the match against Kasimpasa.

He made 65 appearances and scored nine goals for the national team of Ghana.


?s=20