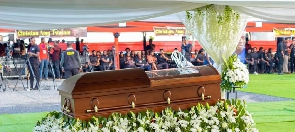 Sun, 19 Mar 2023 Source: GNA
Mr. Abdul Hayye Yartey, Manager of former Black Stars winger Christian Atsu Twasam, has expressed how the untimely death of the player has caused a big vacuum in his heart, leaving marks of pain and sorrow in his life.
Atsu, who was buried in Dagobome on Friday, died in a tragic earthquake that happened in Turkey and some parts of Syria on February 6.

Mr. Yartey in his tribute to the late Christian Atsu said the demise of the Black Stars player came unannounced and was very difficult to believe. 

"Atsu, my son, your sudden demise has caused much pain and sorrow to me personally and to the Cheetah family at large. We cannot comprehend the fact that a strong and energetic man can disappear among us like an early morning mist. Indeed, death is a heartbreaker and home wrecker." 

He noted that it had always been his heart's desire to protect the former Newcastle man at all costs and was dismayed when he heard his son had passed away. 
Mr. Yartey recalled some memorable moments he shared with Atsu, from WAFA, Cheetah FC, Porto, and many others where he gave him the chance to prove himself, which the player made him very proud. 

According to him, Atsu's commitment and dedication to sports made him a global icon for the World football fraternity to mourn him today.

The 31-year-old is survived by a wife and three children.
Source: GNA