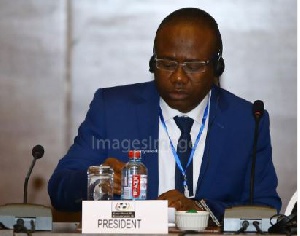 The representative of the Professional Footballers Association of Ghana (PFAG) at the GFA's 2017 Brainstorming Summit held in Cape Coast, Yusif Chibsah, has lauded the president of the Federation for coming up with the initiative.
Chibsah, enumerating the significance of the 3-Day Summit, lauded the initiative and called for periodic summits to improve the game.

"Yes I commend the President of the FA for this initiative. It's a very good and important one. I'll advice that it is done consistently," he told GHANAsocernet.com

"The game of football has a lot of stakeholders as you said and it's prudent to assemble all these stakeholders for each one to bring their views for the way forward for the game," he noted.

Chibsah went on to indicate that brilliant were exchanged and reiterated the need to be consistent with the retreat to ensure new ways of managing the game are always tabled.
"We've all enjoyed it, shared fantastic ideas and I believed that it is made a routine thing to get feedback from the various stakeholders to know what must be improved and what new thing must be adopted."

Chibsah played for Kumasi Asaante Kotoko before moving to Sweden to continue his game and pursue his Master Degree in Accounting.

He is a top FIFA intermediary and a key member of the PFAG.