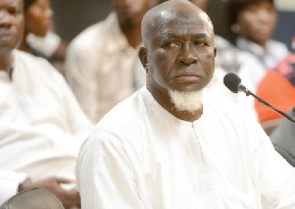 Former King Faisal player, Yusif Chibsah, has opened up about how football administrator, Alhaji Grusah, found out a Hearts of Oak official had bribed his players to lose a match.
Chibsah revealed that during a match between King Faisal and Hearts of Oak, rumors began to circulate about how some players were being offered bribes to deliberately lose the game.

According to Chibsah, Alhaji Grusah took decisive action by contacting one of the players allegedly involved in the bribery.

Together, they made a call from a public telephone booth to an official from Hearts of Oak.

During the call, Alhaji Grusah instructed the player to inform the Hearts of Oak official that he had not yet received his share of the bribe money.

"Alhaji called one of the players and went with the player to the stationary phone boot and called an official of Hearts of Oak and told the player to tell the man you haven't received the money that was shared for the players," Chibsah told Joy Sports.
To their surprise, the official on the other end of the line instructed the player to go and see a particular individual to collect his portion of the money.

"The official just gave himself one when he said, go and see this person. There and there Alhaji Grusah said, he was the mafia chairman," Chibsah stated.

This revelation confirmed Alhaji Grusah's suspicions, prompting Chibsah to describe him as the "mafia chairman" for his intelligent investigation tactics.

Chibsah went on to say that, "forget about his educational background, if Alhaji Grusah had higher education, he would have been one of the best administrators because he was highly intelligent."

JNA/OGB