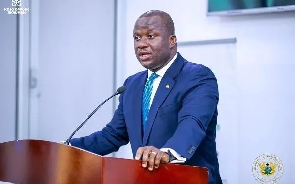 Minister for Lands and Natural Resources, Samuel Abu Jinapor, has noted that drastic measures have been taken by government to protect the Black Volta from the destructive activities of illegal miners.
According to him, so far, 20 changfans of these illegal miners, otherwise known as galamseyers have been destroyed.

Speaking to journalists on the sidelines of the presentation of the intelligence report on Friday, July 21, 2023, Samuel Abu Jinapor stressed that it was important that the country's Black Volta is protected at all cost.

"The need for us to protect the Black Volta is absolutely important, and I'm happy to report that following the reports the Ministry received, we are working closely with the Minerals Commission, the Savannah Regional Coordinating Council and the 6th Battalion of Infantry, 6Bn) in collaboration with the Military command of the Savannah Region were able to carry out an intelligence-gathering operation to ascertain the true facts on the ground", he said.

"As I speak to you now, series of operations have been undertaken and the reports I've received is that 20 changfans have been destroyed and there is a well-thought-through plan to eradicate illegal mining on the river and other parts of the country", the Minister for Lands and Natural Resources stressed.

Describing the emergence of illegal mining activities as 'scandalous and unfortunate', Mr Jinapor said the government through the Ministry of Lands and Natural Resources, Minerals Commission and allied institutions will roll out measures to protect the Black Volta and other water bodies from illegal mining activities.
He stated that enforcement and reformation were the two pillars that government was using to combat illegal mining in the country.

ESA/WA

Watch the latest edition of BizTech and Biz Headlines below: