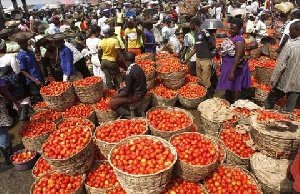 Ghana's inflation rate in December 2019 eased to 7.9 %, the Ghana Statistical Service reports.
This drop beats the country's annual set target of 8% percent.

The drop represents a 0.3 percent decrease from that of November 2019. Food was the main driver of the in?ation recorded in the last month of 2019.

Inflation measures the proportionate changes in the prices of a ?xed basket of goods and services that households in Ghana consume. This index is then referenced to the price level in 2018, the base year, which has an index of 100.

The ministry of Ghana in its 2019 mid-year budget statement set an end of year an inflation target at 8%.
Releases from the Statistical Service revealed a price inflation dipping below the set target for three months from August.

Food prices rose 7.2% from a year earlier, compared to 8.4% in November.

The central bank, which aims to keep inflation in a band of 6% to 10%, said in November that it sees the rate staying within its target range, barring any unforeseen shocks.