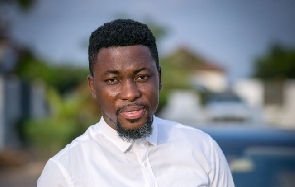 Activist Kwame Asare Obeng, widely known as A Plus is using his clout to promote businesses in Ghana.
Touted as 'The People's Person' as a result of his resolve to be the voice of the voiceless and speak truth to power, Kwame A Plus, is not only using his social media platform to attack politicians but is also offering his followers an opportunity to trade.

A post on his Facebook wall asking followers to advertise and sell their goods and services in the comment section has garnered close to 3000 comments, with each displaying their products.

"Please come and buy from my friends," he wrote.

Although the picture he used for the post caused some people to laugh, A Plus has earned plaudits for the post.

Apparently, it is not the first time A Plus is doing this. It is a routine exercise that happens about twice a month. One of the comments read, "I have nothing to sell today because the last time someone called and bought everything. Thank you so much sir."
Perhaps the most significant post was when the CEO of A1 Bread shared A Plus's post with a reminder that it was A Plus who came to his aid and fought for him 3 years ago when John Dumelo 'ridiculed' him online for hawking on streets of Accra.

"Saying only thank you A Plus is an underestimate of what he did for myself and A1 BREAD exactly 3 years ago. His constant support for Ghana enterprises is beyond imagination and should be acknowledged," he wrote.

"I think we shouldn't wait till death before we acknowledge our fellow humans and what they stand for. He keeps promoting, defending and fighting for our businesses for free and he does that with a passion stronger than even the owner."