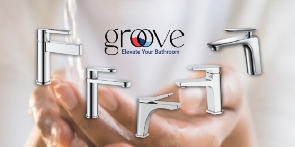 Mon, 20 Nov 2023 Source: Kimo Home Limited
Kimo Home Limited, a leading name in home improvement solutions since 1994, is proud to announce the launch of its latest collection, "Groove".
These stylish and functional bathroom products offer an affordable alternative for Ghanaians looking to transform their bathroom spaces into a personal oasis.

"Groove" is set to revolutionize the bathroom industry by offering cost-effective and high-quality solutions.

This introduction is in line with Kimo Home Limited's core mission, which has remained steadfast for nearly three decades - to assist Ghanaians in creating their dream living spaces, thus enabling them to be the best version of themselves.

Key Features and Benefits of Groove:

1. Affordable Alternative: Groove offers budget-conscious consumers an opportunity to upgrade their bathrooms without breaking the bank.
2. Stylish and Functional: The Groove collection combines chic design with practical functionality, elevating the aesthetics and utility of any bathroom.

Mr. Nader Issa, Sales Director of Kimo Home Limited, emphasized the significance of this launch, stating, "This introduction is part of our main mission of offering affordable lasting solutions to our customers. With our nearly 30 years of experience in the market, we are certain of what is best to serve our customers' needs. The Groove range of products are a testament to our commitment to offering quality, affordability, and style."




The Groove range of bathroom products are currently on display at the Kimo Home Limited showroom, on Spintex road, near Manet Junction and soon to be available through their network of trusted distributors.

"We entreat the general public, architects, interior designers and building professionals to visit our showroom or explore our website to discover the diverse range of Groove products. Experience the affordability, style, and functionality that Groove brings to your bathroom," Nader Issa.


About Kimo Home Limited:

Kimo Home Limited, established in 1994, has been a trusted partner for Ghanaians in their quest to create beautiful, functional living spaces. With a steadfast mission of helping individuals become the best version of themselves through innovative home improvement solutions, Kimo Home Limited has consistently delivered excellence and reliability in the home improvement industry.

For product offering inquiries and further information, please contact Kimo Home Limited via Phone: 0244-334-947. Location: Spintex, near Manet Junction.
Source: Kimo Home Limited