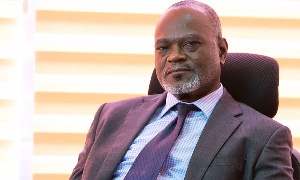 Economist, Dr Kofi Amoah, has outlined a number of key areas where he believes African leaders in particular must channel their energies.
Dr Kofi Amoah said leaders must have the foresight and must be passionate about solving the continent's problems.

According to him, education and the creation of sustainable jobs, especially for the youth, are paramount for the growth of Africa, and therefore require critical attention and key investments.

Making this submission during a dialogue organised by @VoiceofKNUST on Twitter Spaces, Dr Kofi Amoah lamented the disparity in salaries among Africans, compared to other continents.

"Anyone who dreams of becoming a leader in Africa has to hinge that dream on sustainable job creation because it defines success or failure but the jobs must be good paying jobs. Most Africans are underpaid and we have impoverished ourselves by a compensation structure which must be changed," he pointed out.

"We need to raise the living standards of our people through the planning of our National Development and that will entail creating jobs. For example, most successful nations have high employment rates and very low unemployment rates but in poor countries, it is the reverse.

"When people do not have sustainable jobs and the requisite education to go with it, we will not be able to create the wealth required to provide basic amenities such as roads etc. What Africa has sadly been doing is going to borrow money to create these amenities to support the political promises leaders have made to their people," the renowned economist stressed.
Dr Kofi Amoah further cited Africa's vast land and water bodies as critical natural resources which can be used to propel growth and create jobs in agriculture, tourism and others, especially among the youth.

He, therefore, called for a rethink in strategy and orientation, which he believes can leapfrog Africa's development which has long been stifled by abysmal decisions of leaders, lack of investment, greed and among others.

Participants during the dialogue expressed their gratitude to Dr Kofi Amoah for taking the time to share his viewpoint on how the youth can play an active role in the reorientation of Africa and Ghana's development agenda as a whole.

Watch the latest edition of BizTech and Biz Headlines below:








Watch the latest edition of Business Moments below:



MA/FNOQ