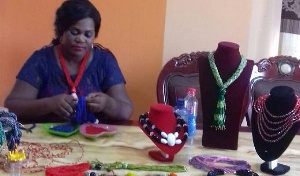 By 8:00am, she is at work. She sits throughout to 3:00pm, working for eight hours. Then she takes a break and prepares dinner for the family and picks her children from school. After her children had fallen asleep in the evening, she gets back to her books. That is a typical day for Beatrice, the special bead maker.
Her background

Beatrice Akuorkor Ablorh Neequaye, born in Nungua, a suburb of Accra, is the CEO of Smartiz Jewellery. Her basic education was at Nungua Methodist JHS where she completed in 1992. Then she continued at Harvard College in Kokomlemle and completed in 1996. After secondary school, she did a year's programme at the Institute of Management Studies, and later went to pursue a professional programme in marketing at Leading School of Management in 1999.

Later she went to the then Institute of Professional Studies, now UPSA, to further her studies. But she could no longer finance for her education as the fee was above her strength. Fortunately for her, she had a job offer but could not combine it with school so she quit school and focused on her job.

After working for two years, she got married in 2002 to Mr. William Kotey Neequaye. Three years later, her company relocated to a place far from her home. This drained her financially and left her with nothing at the end of the month. Meanwhile, she had given birth to her first child. So in 2005, she decided to quit and focus on family life.

Life after resigning

Beatrice began to feel the pinch of staying at home. She felt bored with life and decided to do something. First, she ventured into selling men's suit but dropped that business and went into wholesale of sachet water.
Again, she dropped the business and moved into cement distribution. After some time, the business went bankrupt as she used the money to support her husband in building their house. She decided to join her husband in his business at Okaishie in Accra.

How she became an entrepreneur

When she resigned from her job in 2005, she decided not to work for any company again but to be an entrepreneur. But she didn't know what to do and where to start from. Even though she was working with her husband, her children constantly asked her what kind of job she does. That awakened in her the desire to start something she would call her own.

During this period, she was taking a bible study course. In one of the lectures, they discussed something on the purpose of life. In that lesson, they were told to examine their lives and find out if there was something they loved doing. She then began making a list of things she enjoys doing most. Among those things were buying jewelleries. She realised she spent so much on jewelleries, especially the beaded ones, so she made it a point to learn how to do them.

So in 2013, she decided to find a place where she could learn bead making. It took her three months to learn. Now, she was convinced she had found a job of her own—bead making.

Currently, she produces the beads in large quantities and supplies them to shops and individuals on request.
she advertises her products through social media platforms like Facebook and Instagram. She has had many people contact her through these social media platforms.

How education has contributed to her business

Beatrice is currently a student of the University of Professional Studies, Accra (UPSA), taking a degree programme in marketing. She feels her educational background has contributed immensely to her business.

"My education has really helped me. I have learned about customer relations and so I know how to relate well with my customers in a way that will provide them with some level of satisfaction.

With my marketing background, I also know how to package my products in a very attractive style so as to appeal to the eyes of customers."

Challenges
Common to many start-ups is the problem of not having enough capital to keep the business running. With her role as a family woman and its associated responsibilities, she is not able to raise adequate capital to inject into the business. Sometimes she has to borrow from family members and friends to raise money to supply quite large orders.

Apart from cash flow problems, she has to acquire some equipment that will speed up work for her and bring more efficiency into her business.

Another thing she finds a challenge which has even been a threat to the jewellery industry is the influx of cheap and inferior Chinese jewelleries that has taken over the market.

She believes government must extend support to the sector in the area of legislation in order to reduce the influx of the inferior and cheap products from China that has flooded the market.

Vision

Beatrice bemoans the lack of interest showed by many youth in the industry. So it is her vision to establish a training centre where she can train young ones who will show interest in learning bead making.
She also has the vision of expanding the business to the point where she can export to other markets.

Advise to the youth

"I will encourage young ones, especially those that have completed school to see handy works as another option of tackling unemployment. They should not consider it a profession for those who are not academically good. They must not always look for white collar jobs which may not come."