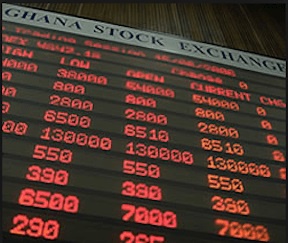 Sat, 1 Aug 2020 Source: SAS Ghana
The benchmark index advanced by 11.85 points (+0.63%) on the back of MTN Ghana (+1.79%) to end today's session at 1,877.64 with a -16.85% year-to-date return.
The market capitalization increased by 0.23% to close at GH¢52.60 billion.

The GSE Financial Index recorded no gains or losses, closing at 1,730.78 with a -14.30% year-to-date return while the SAS Manufacturing Index remained unchanged for eight straight sessions, closing at 2,581.74 with a year-to-date return of -25.84%.

Trading activity strengthened as 62,153 shares valued at GH¢75,572 changed hands from 48,359 shares valued at GH¢28,289 in the previous session.
MTN Ghana dominated trades by volume, accounting for 39.95% of the total volume traded while Standard Chartered dominated trades by value, accounting for 45.85% of the total value traded.

We expect activity levels to increase as investors take advantage of bargain stocks.
Source: SAS Ghana