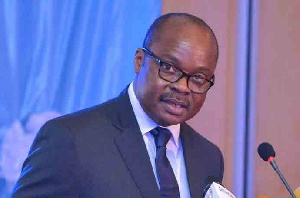 Some officials of the Bank of Ghana (BoG), should be blamed for the crisis that has bedeviled the banking sector, leading to the collapse of some indigenous banks, Kusi Boafo, an economist, has said.
According to him, these officials failed to play their supervisory role effectively, hence the challenges that are being fixed by the current administration at the central bank.

Mr. Boafo told Ghana Yensom host, Kwabena Prah Jnr (The Don) on Accra 100.5FM Tuesday, January 8, 2019, that the problems in the banking sector negatively affected the general economic wellbeing of the country.

"For you to have a strong economy you need a strong banking sector," he said, adding, "because it is the banks that give loans to people to carry out their businesses and other activities, forget about growing your economy if you have a weak financial sector"

"For this reason, the Bank of Ghana should have increased its surveillance role on the banks to ensure that they comply with the rules of the sector. Some of the officials failed to do their job well especially from 2014 to 2016."

Over the past two years, the BoG has embarked on what could be described as a clean-up exercise in the banking sector in the country.
The Minimum Capital Requirement (MCR) was raised from the initial GHS200m to GHS400m. Some banks who were unable to meet the new MCR have been merged.

The BoG created the Consolidated Bank Gh. Ltd to take over five struggling banks - Sovereign Bank, Royal Bank, The Beige Bank, Construction Bank and Unibank – in the country over liquidity challenges.

The BoG has also withdrawn the licence of Heritage Bank on the basis that its majority shareholder, Mr. Seidu Agongo, is not "fit and proper" to own a bank because he was being prosecuted by the state in connection with an alleged GHS271 million Ghana Cocoa Board (COCOBOD) fertilizer scandal, which is pending before the high court.

On Friday, 4 January 2019, the central bank Governor Dr Ernest Addison told journalists that: "The issue of Heritage Bank, I wanted to get into the law with you, I don't know if I should, but we don't need the court's decision to take the decisions that we have taken.

"We have to be sure of the sources of capital to license a bank, if we have any doubt, if we feel that it's suspicious, just on the basis of that, we find that that is not acceptable as capital. We don't need the court to decide for us whether anybody is fit and proper, just being involved in a case that involves a criminal procedure makes you not fit and proper".