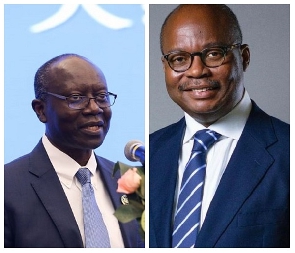 Ghana's Central Bank Governor, Dr Ernest Addison, has said a Memorandum of Understanding (MoU) has been finalised and signed with government through the Ministry of Finance to end monetary financing of the national budget.
Dr Ernest Addison speaking with centralbanking.com said the MoU was signed by both parties on May 2, 2023.

"The MoU has been finalized and signed," Governor Ernest Addison told the portal.

In a separate interview with the Financial Times, Dr Addison is reported to have said that the MoU took effect on May 1, 2023 and will come into force should the International Monetary Fund approve Ghana's request for a $3 billion loan facility.

The MoU to end zero financing forms part of a requirement aimed at securing Ghana's loan request with the IMF after the country earlier reached a Staff-Level Agreement in December 2022.

Touching on Ghana's pending IMF deal, the Central Bank Governor said he believes "Ghana's deal with will be approved before the end of May 2023".
After enduring fiscal pressures and general vulnerabilities for years, Ghana's economic challenges worsened from 2020 when the COVID-19 pandemic collapsed growth and spiked expenditures.

According to government, the situated became dire following the invasion of Ukraine by Russia.

In addition to the economic crisis, the international capital market was closed to the country in 2021 on the back of unsustainable debt levels and dwindling reserves – forcing the government back to the IMF in July last year for a 17th bailout request.

Although a Staff-Level Agreement (SLA) has been secured, the final approval is still pending as external debt restructuring and financial assurances from the country's bilateral creditors, which are to precede the Executive Board approval, drag.

Watch the latest edition of BizTech and Biz Headlines below:






MA/FNOQ