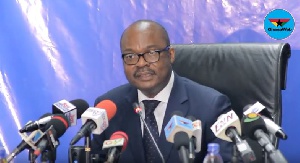 The Governor of the Bank of Ghana, Dr Ernest Addison, has observed that the supervisory role of the central bank is weak, hence some of the challenges facing the financial sector in the country.
According to him, this, among other factors, has undermined the stability of the banking sector and other non-bank financial institutions.

Dr Addison explained in an article titled: "The State of the Financial Sector in Ghana" which was published on the central bank's website on Wednesday, 21 March that in spite of this weakness, the BoG has taken drastic steps to clean up the financial sector.

"The problems in the financial sector were also reflected in the Microfinance or MFI subsector comprising MFCs, MLCs and FNGOs, and RCBs and the extent of distress in this subsector was characterised by severely impaired capital; inability to meet regulatory capital adequacy requirement; generally low asset quality; and liquidity crises.

"These have culminated in threats to depositors' funds, thus, eroding public confidence and undermining efforts to promote financial inclusion. Of the total number of 566 licensed MFIs in 2018, 211 are active but distressed or folded up.

"Also, out of the total number of 141 RCBs, 37 are active but distressed or folded up. In total, it is estimated that 272 out of the 707 institutions in the sub-sector, representing 38.5% are at risk.
"This indicates that approximately GH?740.5 million is owed to an estimated 705,396 depositors of the distressed or folded up MFIs and RCBs. In terms of significance, the deposits under distress form 8.81% and 52.49% of industry total deposits of RCBs and MFIs respectively."

The articled added: "As you would realise by now, poor banking practices, coupled with weak supervision and regulation by the Bank of Ghana has significantly undermined the stability of the banking and other non-bank financial institutions and we all know some of the consequences by now—revocation of licenses of two banks while other banks were placed under comprehensive capital restoration plans.

"The financial sector cleanup has started but not completed and we have managed to keep a few weak banks in operation since August 2017. Today, we announce the continuation of the cleanup of the sector with the appointment of an administrator for uniBank by the Bank of Ghana. The Bank of Ghana has put uniBank under Official Administration to protect the stability of the financial sector. The official administrator will assume the responsibility of management and direction of the bank in a manner that contributes to the stability of the bank and the safety of depositors' funds."


Bank of Ghana takes over management of Unibank by GhanaWeb Editorial on Scribd