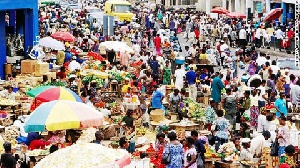 Commercial business owners within the Central Business District of Accra on Thursday lamented over low patronage of goods on the eve of the 2018 Easter festivities.
Some traders at the Makola Market expressed concern about the poor patronage of their wares during interaction with the Ghana News Agency, stressing that the Easter euphoria had not translated into high sales for traders

Most of the traders said, although there were many people on the streets and traffic jams, the impact had not reflected on sales from textiles, cosmetics to foodstuffs.

Madam Agnes Adjor, a second hand clothing dealer, attributed the low patronage to the economic hardship in the country, and pleaded with government to make money available in the system.

Auntie Akosua Oduro, a textiles seller, said customers only called on phone to inquire about prices of cloths but did not show up to buy them, but those came, came to do window shopping.

On her part, Naa Mokor Adjeley, a mini mart owner at Makola Market, also told the GNA that the poor patronage had forced most traders to reduce prices of goods especially tomatoes, oil, onions, fish, rice but "we are still not making sales, and this is disturbing".
Madam Zinabu Adamu, a yam seller, told the GNA that business was good for her compared to when the season was not ushered in, "Initially I could come, sit all day, and end up sleeping when customers were not coming, but from Monday till date, patronage has been a success for me".

Meanwhile, at some lorry stations in Accra, the bus terminals were congested with travellers going through the usual formalities to board buses.

Mr Kwame Borquaye, an Assistant Station Master at the Nkawkaw Neoplan Station at Kwame Nkrumah Circle, told the GNA that passenger turnout was low as compared to past Easter periods.

Christians across the globe celebrate Easter – Good Friday, Holy Saturday and Resurrection Sunday which is a commemoration of Jesus Christ's crucifixion on the cross and eventual resurrection on the third day.