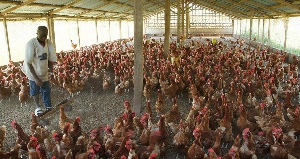 The Chairman of Ghana National Association of Poultry Farmers, Victor Oppong Agyei, has bemoaned the high cost of agricultural borrowing in the country, describing it as a major setback to the sustainability and growth of the poultry industry.
He said the cost and structure of financing agriculture in the country are unfriendly to the poultry sector. He consequently called for a downward review of the prevailing interest rates to support financing of the poultry industry.

"Understanding the poultry industry is a key to effective and sustainable economic benefit to the farmer, the financial institutions, the government and the country at large," he said.

He was addressing a mini summit in Sunyani organised by the USAID to facilitate the financing of agribusiness in the country.

The one-day conference, under the theme: "Financing the maize, rice and soy value chains for enhanced feed and poultry production in Ghana", formed part of the implementation of the five-year USAID-Financing Ghanaian Agriculture Project (USAID-FinGAP).

The country imports millions worth of poultry products annually. In 2012, the total import of dressed broiler into the country was about 200,000 metric tonnes. This was about 95% of the total broiler market with an estimated value of US$200,000.

Mr. Agyei also raised concern about the unhealthy competition emanating from the excessive importation of dressed broiler in the country, saying: "The situation is totally and grossly unfair relative to the cost of production differences in the respective countries and the meat quality which is mostly compromised due to long storage and cold chain."
He observed that the situation has crowded out most farmers who, hitherto, were major broiler producers and they are now compelled to venture into commercial eggs production. However, negative myth surrounding egg consumption, such as perceived high cholesterol level has contributed to low patronage of eggs resulting in a perennial glut of eggs, making the sector uncompetitive.

Reports indicate that about 10% of the estimated 1.5million eggs produced in the country go waste.

Mr. Agyei noted that: "Notwithstanding the aforementioned challenges, the country is lingering over a multi-billion dollar industry which by creating synergies among stakeholders, we can explore and access the great potentials of the industry."

On his part, Mr. Samuel Kwame Ntim-Adu, CEO of Yedent Agro Group of Companies, described the poultry industry as a "huge goldmine and virgin" avenue yawning for investors. He said Ghana has one of the least eggs consumption rate in the world with a per capita figure of 17 eggs per year as against the 170 average eggs consumption in the world.

He noted that should Ghana increase its eggs consumption rate to the average world figure, it will translate into about 2.2 billion market size of eggs with a monetary value of US$560 million. This, he said, demonstrates that the poultry industry is a worthwhile investment opportunity that can cushion the country's economic growth.