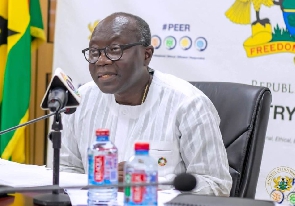 Tue, 1 Aug 2023 Source: Bloomberg
Ghana is inviting local pension funds to a debt restructuring deal that gives the state fiscal space in the medium-term at no loss to the retirement funds.
Pension funds have been offered to exchange about 31 billion cedis ($2.7 billion) of existing investments that carry an average coupon of 18.5% for two new bonds maturing in 2027 and 2028 with an average interest rate of 8.4%, the Ministry of Finance said in an exchange memorandum late Monday.

The government will also give holders more of the securities — which were issued in February — and an additional cash-payment instrument that offers 10%, it said. That will result in a stream of coupon payments totaling 21%, according to the memorandum.

In 2023 and 2024, both instruments will pay 5% coupon in cash and the remainder will be capitalized into the nominal amount of the two bonds and paid at maturity, it said. This is in order to enable the government to comply with macroeconomic requirements under its program with the International Monetary Fund, the Finance Ministry said.

"This alternative offer has been designed to achieve the same average maturity, achieve a better average coupon while alleviating the cash constraint for the government during the initial years after the exchange."

Ghana, which defaulted on a Eurobond payment earlier this year is restructuring most of its 569.3 billion cedis debt as of end-April, to make them sustainable under the $3 billion IMF program it entered mid-May.

Ghana won IMF backing after obtaining financing assurance from bilateral creditors under the Group of 20's Common Framework in May and completing the first part of a domestic debt exchange in February.
In that exchange investors swapped 87.8 billion cedis in obligations for new securities that paid as little as 8.35%, versus an average of 19% on the old notes.

Eurobond Revamp

The pension funds rejected that offer because of the losses they'd incur. They have up to 4:00 p.m. on Aug. 18 to accept this new offer.

Ghana also started the reorganization of $809 million of domestic dollar bonds and 7.9 billion cedis of cocoa bills on July 14 that will close on Aug. 4.

The results from these exchange programs and the specific terms of debt relief Ghana gets from bilateral creditors will largely determine the terms Ghana will propose to Eurobond investors. Ghana targets to complete its dollar bonds overhaul by a self-imposed deadline of September.
Source: Bloomberg