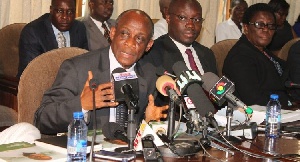 Government has reached an agreement in principle with local banks to restructure the debts of State Owned Enterprises (SOEs).
The agreement with the banks is expected to ensure the repayment of SOEs' legacy debt which poses risk to the banking sector.

Finance Minister, Seth Terkper, who disclosed this at a press briefing in Accra yesterday, said government was also looking at other means to repay the debt of SOEs.

Debt repayment agreement

Explaining further, he said the banks have accepted a framework to restructure and repay about GHC2.2 billion of the debt of SOEs over a period of three to five years.

Key features of the agreement include upfront payment of approximately GHC250 million which will be funded by the new collections from the energy sector levies, reduction of interest rate on the foreign currency component of the VRA debt from an average of 30 percent to 22 percent and reduction of interest rate on the foreign currency component of the VRA debt from average of 11 percent 8.50 percent, Mr Terkper mentioned.

He said the repayments will be funded from a debt service account which will receive cash flows from the energy debt recovery levy, debt service reserve and proportion of VRA's receivables.
Mr Terkper also said proceeds of the energy debt recovery levy which are applied to VRA debts will be converted into equity on VRA's balance sheet or could be subject to an on-lending arrangement with government.

He said government will place limits on the ability of VRA to incur new debts without express approval.

The government anticipates that this approach will be used to restructure VRA's debt and that of other SOEs in the energy sector.

Elimination of SOE Arrears

The government has conducted an assessment of arrears and prepared an action plan to eliminate the SOEs debt.

This, he said, include improving the repayment of the "legacy debt" to ECG to the tune of GHC728 million over five years.