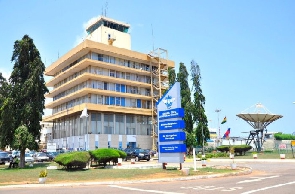 The staff union of the Ghana Civil Aviation Authority (GCAA) has thrown caution to the public to stay away from grabbing lands meant for accommodating some air navigation equipment.
The workers say lands demarcated for aviation safety purposes are being taken over by the government which they fear could jeopardize safety at the country's International Airport.

The aviation authority has already issued directives asking occupants of apartments at La Wireless to vacate the premises to allow for the relocation of judges affected by the National Cathedral project at Ridge.

Spokesperson for the Aviation Workers Union, William Wilberforce Amoako, says the unlawful land grabbing has the tendency of negatively affecting aviation safety.

"This action by individual encroachers and some government officials have the tendency of negatively affecting aviation safety, and since we have been mandated by the government to ensure the safety of flights within our flight information region, we will do all we can to achieve this for the people of Ghana and the international community."
"We will not sit down unconcerned and allow GCAA assets or for that matter the assets of the state to be taken over by private individuals for Non-Aviation Purposes."

Meanwhile, the aviation protestors comprising seven professional staff unions have called for the removal of the Board Chairman of the GCAA, Air Commodore Rexford G.M. Acquah.

They say they will outline series of actions if they do not get a favourable response from the government and management.