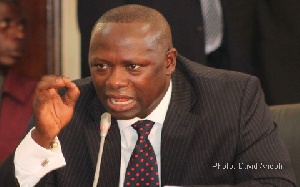 The Energy Ministry is looking to have a larger supply of power being generated from gas and its counting on the rebounding of the Atuabo Gas Plant to stabilize the system and make Ghanaians enjoy regular power supply after the maintenance works.
Last year government subsidized the tariff of power users by some 10 to 30%. The Public Utilities Regulatory Commission (PURC) meanwhile has delayed the announcement of new tariffs for May expected to take effect in June.

Deputy Minister of Energy, responsible for Finance and Infrastructure Joseph Cudjoe attributes the recent power outages to the shutdown of the Atuabo Gas Plant for critical works to be undertaken.

Ghana Gas announced a total temporary shutdown of the Atuabo Gas Plant to interconnect with the West African Gas Pipeline to allow for a reverse flow of gas from Takoradi to Tema.

The situation has resulted in unstable power supply to homes in several parts of the country however managers say in 10-12 days, works should be completed and power supply should return to normalcy.
Deputy Minister for Energy in charge of Petroleum, Dr. Mohammed Amin Adam stressed the planned shutdown saved country the US$400,000 million on a daily basis.

"We had to finally take a decision to do the shutdown because for every one day that we delay in the shutdown, the Government of Ghana has to pay US$400,000, that is how much the people of Ghana have to pay if we further delay the shutdown because the contractors have been brought to site for some time now. If we have to pay for ten days, that's about 4 million dollars. You all know the difficulties we have, we need that money to develop our country, to build more schools and hospitals, we cannot be losing it for just postponing something which is an obligation, which we have to do to get better," he noted.

The claims however do not sit well with former Energy and Petroleum Minister, Emmanuel Armah Kofi Buah who insists the Ghana Grid Company Limited (GRIDCo) faces financial crisis because of mismanagement in the transportation of power adding he has been informed workers' salaries have not been paid.

He submits the mess at GRIDCo partly explains the power outages noting a critical facility such as GRIDCo must not be allowed to face such crisis saddled with debt due to mismanagement by the current executives.