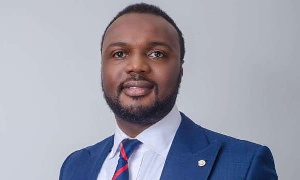 The First Capital Savings and Loans Company which later metamorphosed into Capital Bank was the first savings and loans company in Ghana to start operating ATM services, William Ato Essien, Founder and Chief Executive Officer of the now defunct bank, has said.
He also said the company was the first savings and loans to start issuing cheque books to customers in the country.

He said on Metro TV's Good Evening Ghana Programme on Thursday 26TH September, 2019 that: "We were the first to start operating ATM and also issued cheque books to customers as a Savings and loans company. We had the permission from the Bank of Ghana to do that."

Capital bank was one of the local banks that went under during the recapitalisation exercise undertaken by the Bank of Ghana (BoG).

Mr Essien revealed that he will soon launch his book titled: "In the Spirit of the Africa Entrepreneur."

This book, he said catalogues his experiences in doing business as well as the collapse of his bank.
When host of the programme Paul Adom-Otchere, asked what he has been doing since the collapse of his bank, he said: "I am currently writing a book titled 'In the spirit of the African entrepreneur."

Mr Essien further told Paul Adom-Otchere that the Finance Minister Ken Ofori-Atta proposed to buy Capital bank in 2016.

"If the bank was that bad would the current finance minister and the board chairman of Enterprise Keli Gadzekpo come to my office to say we are interested to buy Capital bank? Ken Ofori Attah came to my office in 2016 to make that proposal,"

He also dismissed claims that the board chair of the bank Dr Mensah Otabil lacked the requisite knowledge to lead the board and direct affairs of the bank.