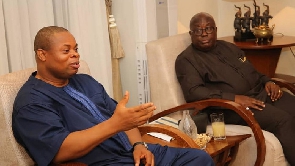 Founding President for IMANI Africa, Franklin Cudjoe, has stoked the controversy about the UNIPASS system at the ports with a claim that Ghana's trade may be affected after coronavirus if firm steps are not taken.
In a Facebook post on Friday, June 19, 2020, Mr Cudjoe described the Integrated Customs Management System (ICUMS) as an "organised chaos" that has resulted in a loss in revenue of GHS30 million on the day he was making the post.

He, however, failed to provide details of how he arrived at that figure.

"Nana Addo, covid is not the only pandemic ooo…portspandemic is a real threat to your agenda to pay all depositors of collapsed banks their due as you promised," a part of his post stated.

Mr Cudjoe has long been against the move by the government to remove GCNet and West Blue as the managers of Ghana's port revenue systems.
ICUMS took over from GCNet and West Blue on June 1 amid controversy, but the Ghana Revenue Authority has said the system is better and the current challenges are to be expected because it is a new system.

According to the GRA, some GHS490 million has been generated as revenue for the state since the ICUMS online some two weeks ago.

Mr Cudjoe's latest Facebook post on the matter is published below.