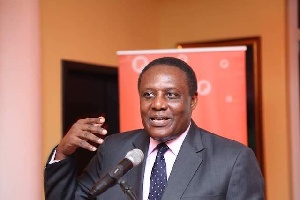 Fidelity Bank has expressed interest in merging with other local banks to meet the Central Bank's GHS400 million minimum capital requirement.
The Bank of Ghana has given all universal banks in the country up to December 2018 to recapitalise from GHS120 million.

In light of that, Fidelity Bank MD, Jim Baiden, said: "Meeting the new minimum capital requirement of GHS400 is not a problem at all for Fidelity Bank. We are looking into the banking space. It is possible that we will be interested in a few banks and signal consolidation."

"It's likely that Fidelity will merge or invite other smaller banks to merge with us into a bigger entity," Mr Baiden told journalists on the sidelines of the launch of a book titled: "Developing Africa's Financial Services: The Importance of High Impact Entrepreneurship".
The book was authored by Prof Dana Redford.

"Fidelity Bank is one of the two indigenous banks who have emerged as very strong because our capital adequacy is one of the highest. Our liquidity ratio is also one of the highest in the country," he added.