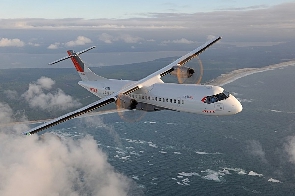 AviationGhana sources have revealed the type of planes that Ghana's new flag carrier, Ghana Airlines, would be using for the start of its operations.
Sources close to the company revealed to AviationGhana.com that it would be using ATR planes for its domestic and regional operations.

ATR aircraft, manufactured by the Franco-Italian company, comes in four different types: ATR 42-600, ATR 42-600S (STOL), ATR 72-600, and ATR 72-600F (FREIGHTER).

The choice of the aircraft depends largely on its fuel efficiency, low maintenance cost, and operational efficiency in a tough terrain such as West Africa.

Choice of strategic partner for Ghana Airlines

Ghana has been without a national airline since the collapse of Ghana International Airlines in 2010, following the demise of Ghana Airways in 2004.
Attempts to establish a new home-based carrier has led to the signing of MoUs with Ethiopian Airlines and EgyptAir respectively with no clear outcome.

This led to the establishment of a new Committee to vet all proposals after the erstwhile Ministry of Aviation was subsumed into the Ministry of Transport.

Ashanti Group was shortlisted among others through a competitive process and subsequently received Cabinet approval for the Strategic Partnership on February 24, 2022.

Ashanti Airlines, backed by Dr. Ernest Ofori Sarpong and Osei Kwame Despite, two entrepreneurs with an interest in real estate, media, beverage production and others, turned to UK-based Zotus Group for the required funding and expertise in operationalizing the country's proposed new airline christened "Ghana Airlines".