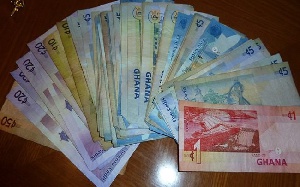 Ghana's central bank, the Bank of Ghana (BoG) on Wednesday announced the creation of a new bank meant to serve customers of five stressed banks.
The affected banks were named as: Unibank, The Royal Bank, Sovereign Bank, Beige Bank and Construction bank. Unibank has links with a former BoG governor and one time Minister of Finance.

The BoG declared the five banks insolvent and stated that all their assets and deposits have been transferred to a newly created bank called Consolidate Bank Ghana Limited.

The apex bank added that the new bank is to have total assets of more than 7 billion cedis. It will also consolidate staff of the stressed banks numbering over 2,000.

BoG also allayed fears of all account holders in the said banks assuring them that their deposits were safe and they could visit their respective branches to conduct business under the new bank.
It is expected that signages and other documentation of the dissolved banks shall be replaced with that of the new bank in the coming weeks.

Almost a year ago in August 2017, the BoG took over two commercial banks as part of efforts to strengthen the banking system and to protect depositors' funds.

The affected banks were UT bank and Capital Bank, after the revocation of their operating licenses, their customers were transferred to the state-owned Ghana Commercial Bank (GCB).