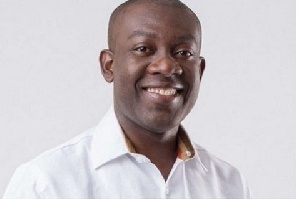 Kojo Oppong Nkrumah, Ghana's Minister for Information has been penned to speak at the much anticipated Global Africa Forum on Communications scheduled to take place in Rwanda from August 21 to 23 2019.
The conference which has as its theme; Speak For Africa: New communications frontier for Africa's growth story is hosted on the continent courtesy of TheNerve Africa.

The epoch-making conference is also supported by the African Union which joins the conference as an institutional partner.

Ghana which is expected to be the Poster Child of Africa by the end of this year has recorded a lot of success in the current administration. This is vital to any minister under the Nana Akufo-Addo led administration most especially to the minister of information.

Nkrumah has helped in reshaping the narrative of Ghana's socio-economic development.

Kojo brings his expertise as a Broadcast journalist and Ghana's minister for information on board to discuss Ghana's role in shaping Africa's global image.
This event will be a gathering of Africa's most influential communicators, marketing professionals, company spokespersons, CEOS, media & policy leaders, journalists, as well as reputable PR, brand and marketing agencies shaping the fortunes and future of the continent through communications.

The event will be attended by over 1000 participants from over 500 companies and government institutions from different countries in Africa and beyond.

The nexus between strategic communications and economic development of regions around the world cannot be overemphasized.

Some of the world's most ambitious countries and regions have over time integrated communications variables into economic models leading to a more positive outlook, good reputation and attractiveness to investments. Same cannot be said of most of Africa.

The Global Africa Forum on Communications will give professionals the opportunity to look at communications in an entirely new light, putting into context the critical role communications will play in driving Africa's growth, shape the future of African economies and companies operating within Africa.
It will also give them the opportunity to learn, network, experience, and tour a new African country.

The event has a line up of global heavyweights and industry leaders in communication and marketing who will be discussing various topics. The sessions are designed to offer participants the most thought-provoking conversations, case studies, global best practices, and challenging takeaways.

During the conference, there will also be a creativity festival which will provide a platform to celebrate and showcase the best of Africa's advertising, led by agencies, media, and marketing technology companies, in an atmosphere synonymous with global creativity festivals like Cannes.

Some of the speakers to speak at the event are: David Lennon – Global Creative Director, Fortune Magazine, New York; Moky Makura – Deputy Director Communications, Africa, Bill And Melinda Gates Foundation; Tim Morris – Senior Adviser, Africa Matters Limited, London; Brad Ross – Marketing, Customer and Commercial Director, Coca Cola West Africa Business Unit; Gina Din-kariuki – CEO & Founder of Gina Din Group, Kenya; Terhas Asefaw Berhe – CEO, Brand Comms Group, London; Bob Pickard – CEO, Signal Leadership, Canada; James Barty, Founder, King James, South Africa and Richard Kiplagat – MD for East Africa, Africa Practice.

Why Rwanda was chosen for a pan African summit of this class
Rwanda is currently one of Africa's hottest travel and conferencing destinations. It was voted by CNN travel among 18 best places to visit in 2018, Rwanda is a jewel yet to be experienced by most of Africa's corporate professionals.

Rwanda is also reputed as one of the most open in Visa Openness Index. Rwanda offers Visa on Arrival to passport holders of all countries of the world, making it a great travel destination of choice. Rwanda seems the most logical choice due to its centralized location and a national airline offering connections to most business hubs across Africa.

Rwanda currently has one of the most modern, state-of-the-art conferencing facilities in Africa. Our venue of choice, the Radisson Blu Kigali Convention Center was recently crowned Africa's leading Conference Hotel by the World Travel Awards.