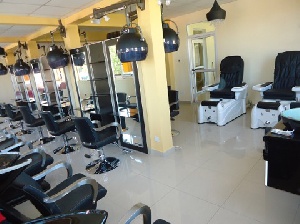 Some hairstylists at the Tema Station say business has been slow since the start of the New Year.
They said compared to the Yuletide, which saw a brisk business, patronage of their services had been down.

Weeks before the yuletide, various salons were full of customers either braiding their hair, fixing weave-on or buying wig caps despite an increase in price.

In an interview with the Ghana News Agency, Miss Rebecca Naah, a hairdresser, said business boomed during the Yuletide with majority of her customers braiding and fixing weave-on.

She said during that time she made sales between GH¢200.00 to GH¢300.00 daily but now she got between GH¢80.00 to GH¢100.00

Madam Irene Ansah, a salon operator, said there was high patronage of her services during the yuletide, but now sales had gone down, adding that, she made sales between GH¢100.00 to GH¢250.00 during the yuletide but these days she said sales had reduced to GH¢80.00.
Madam Grace Boakye, a shop owner, said: "Business was good a week before the yuletide but is not encouraging these days."

She noted most salons opened early and closed late in order to meet demand but the trend had changed after the yuletide.

She, however, expressed the hope that business would pick up in the subsequent days.

Mrs Mary Agyeman, another hairdresser, said the wig cap was being sold at GH¢60.00 to GH¢300.00, braids cost GH¢30.00 to GH¢50.00 depending on the length and style, washing cost GH¢7.00, retouch cost GH¢10.00 while weave-on fixing ranges from GH¢30.00 to GH¢40.00.