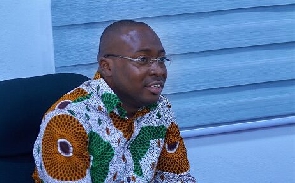 Sun, 28 May 2023 Source: GNA
Mr Tsornam Cleanse Akpeloo Greater Accra Regional Chairman of the Association of Ghana Industries has stated that high cost of electricity is inimical to the development and growth of industry in Ghana.
He said power constituted about 30 percent of the production process and therefore high cost of the commodity in Ghana gave other countries such as Ethiopia and South Africa the comparative advantage.

Mr Akpeloo stated this in a two-day seventh Ghana International Trade and Finance conference(GITFiC) in Senchi in the Eastern Region.

The conference among other things held panel and consultative discussions and had media engagements on some pertinent issues in the African continent.

It was attended by patrons from at least 10 African countries.

Mr Akpeloo said while Ethiopia was charging 6 cents per kilowatts per hour, Ghana was currently charging 16 cents per kilowatts per hour which was having negative repercussions on Ghanaian Industries.
He said unfortunately, most of the Ghanaian Industries were Small and Medium Enterprises that could not afford high cost of electricity, water and other materials.

"Another headache in the Trade and production sector isbecause every level of production is tied up to the dollar and so the appreciation of the dollar against African currencies become suicidal to their industries."

Mr Akpeloo appealed to the African continental Free Trade Area(AfCFTA) to focus on fraudulent issues that were inhibiting African trade and production by leveraging technology.

He said people were taking advantage of technology to visit fraudulent activities on companies and individuals, which retarded the progress of industry.

He commended the GITFiC for bringing together major industry players to deliberate on pertinent issues concerning trade and industry as that could serve as a springboard for regional integration.
Odeheno Kwafo III, Paramount Chief of the AKwamu Traditional Area commended the GITFiC for the programme and promised to support it into fruition for posterity.

He said although there were hardships, there was a need for a public and private partnership to harness the development potential of the country.

Mr Selasi Koffi Ackom, Chief Executive Officer of GITFiC said at the end of the conference a consensus on a single currency was arrived at and hoped that would spiral trade and industrialization.

Some of the important issues discussed included Prospects on Africa's single currency, Actualising Africa's industrialization agenda in the era of AfCFTA: The role of Africa's Small and Medium scale enterprises – The ECOWAS perspective, and sovereign economic vulnerabilities.

Watch the latest edition of BizTech and Biz Headlines below:
Source: GNA