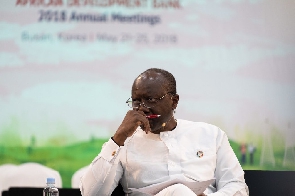 A creditor committee consisting of Ghana's creditors has been established today, May 12, 2023.
The committee is to be co-chaired by China and France.

China is one of Ghana's largest creditors. Currently, Ghana is seeking for debt relief or debt cancellation from its creditors as one of the requirements for obtaining an IMF deal.

A joint statement of the Creditor Committee for Ghana under the Common Framework for Debt Treatments beyond the DSSI explained that the creditor committee examined the macroeconomic and financial situation of Ghana, including its long-term debt sustainability.

It also scrutinized its formal request for debt treatment under the "Common Framework for Debt Treatments beyond the DSSI" endorsed under the Saudi G20 Presidency in November 2020, which was also endorsed by the Paris Club.

The creditor committee stressed that the Ghanaian authorities are expected to seek from all private creditors and other official bilateral creditors debt treatments on terms at least as favorable as those being considered by the creditor committee, in line with the comparability of treatment principle.

Consequently, the creditor committee urges private creditors and other officials' bilateral creditors to commit without delay to negotiate with Ghana such debt treatments that are crucial to ensure the full effectiveness of the debt treatment for Ghana under the Common Framework.
The committee, therefore, supports Ghana's decision for its envisaged bailout from the International Monetary Fund.

Watch the latest edition of BizTech and Biz Headlines below:





SSD/FNOQ