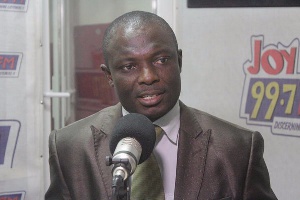 Deputy Minister for Finance Kwaku Kwarteng has described the International Monetary Fund as unreasonable following the Bretton Woods institution's concerns over the undersubscribed Energy bond floated by the government.
The attack was made on GHOne television hours after the deputy minister had told Morning Starr host Francis Abban that 'IMF are not gods' on Morning Starr.

The IMF, according to documents sighted by Starr News, raised concerns over the procedure government was resorting to in floating the energy sector bond which has poorly performed.

Managers of the Energy Sector Levies Act (ESLA) who have been given the mandate by Government to issue the bond, were seeking to raise GHS6billion under the two separate bonds.

But it accrued a total of GHS4.6 billion after it closed the auction last Friday.

The seven-year bond received the targeted GHS2.4 billion while the 10-year bond accrued about GHS2.2 billion, below the target of GHS3.6 billion.
The managers also accepted an interest rate of 19.5% for the 10-year bond.

Speaking to Kafui Dey and Baisiwa Hammond on GH Today Thursday, Mr. Kwarteng said the IMF has been difficult to reason with in the issues concerning the bond.

"We have had discussions with the IMF on this, we have insisted that this is how we are going to take it, and we have taken it. The IMF has not come to organize a press conference with the minority. We have continued to engage with them (IMF) on the review," he said.

When asked by Kafui if he believes the government is right and the IMF wrong, Mr. Kwaku Kwarteng responded: "They are unreasonable. when we sit down, we brief them. The notion the minority has that the IMF is so good that whatever they say you must take; it is wrong. If you believe in yourself and you have confidence in what you're doing, you engage them".