Business News Tue, 20 Nov 2018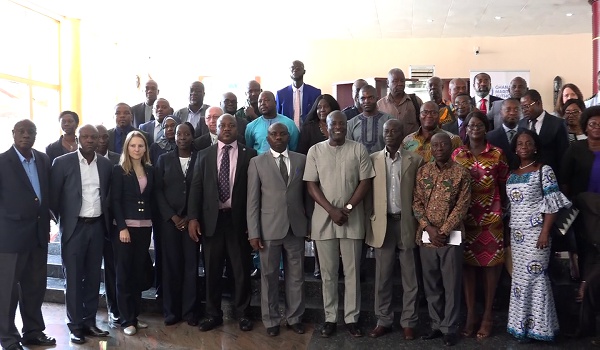 A 4-day regional workshop to encourage effective self-auditing of security in ports has been held in Tema. The workshop which sought to build the capacity of maritime security agencies was organized by the International Maritime Organization in collaboration with the Ghana Maritime Authority.
The IMO assembled consultants from different key global institutions such as UNODC, INTERPOL and PWAMCA to facilitate the training program. Representatives from key maritime security institutions like the Ghana Police, Ghana Navy, National Security, and the Ghana Maritime Authority were present to participate in the workshop.

Chairman of the program, Samuel Ayeh-Paye, said, with Ghana committed to maintaining its compliance with the ISPS code, self-auditing has been recognized as a requirement to keep Ghana's maritime security systems at a high standard.

"Certainly in Ghana we have implemented the code. Our ports have achieved full compliance with the requirements," he stated.

The Deputy Minister of Transport, Daniel Nii Kwartei Titus Glover said, with the reported growing threats of maritime crime, it is now more than ever required to tackle these obstacles with all resources available.

"The IMO has reported that there has been tremendous increase in illicit maritime activities particularly in piracy, armed robbery and sometimes illegal bunkering in the maritime sector in the Central and Western Africa Region in spite of recent success that have been achieved. It is therefore clear and indicative to the fact that there is a need for us to sharpen our skills as to what we can do," he admonished.

The Deputy Minister also indicated that, the Port which is undergone massive expansion is an important national asset, so it is very important to create a secure environment for its business to thrive.
"Next year hopefully, the expansion of the Tema Port will come to effect, where the first two berths are going to be operationalized. It means that we need to strengthen our security around the port area in Tema Port."

The Director-General of the Ghana Maritime Authority, Kwame Owusu expressed gratitude to the IMO for their consistent assistance in capacity building for the Maritime Authority.

"In our effort to assist SOLAS and the ISPS code, parties in the implementation of compliance with the requirement of SOLAS, the ISPS code and IMO Safety Committee Developed Guidance on voluntary self-assessment by SOLAS contracting Governments and by Ports facilities. The IMO regional program is to encourage effective self-auditing of security in ports," he said.

He said the regional workshop serves the opportunity to further equip the Authority's ability to comply with the SOLAS convention and ISPS code.

The IMO regional coordinator for West and Central Africa, Dallas Laryea, said maritime trade permeates all economies, so its security is equally essential. "Maritime transport is essential to the world economy as over 90% of the world trade is carried by sea and it is by far the most cost efficient way to move goods and raw-materials around the world, maritime security is therefore a problem that affects many of us and not just a few."
Source: EOP