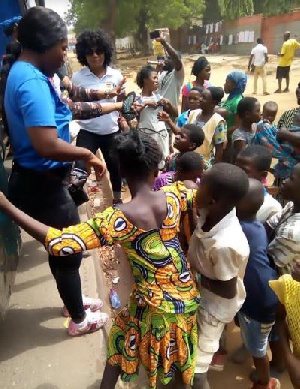 Wed, 2 Jan 2019 Source: Isaac Kyei Andoh
Even though the festive season remains time for families to come together and mark the birth of Jesus and the end of the year through feasting and merry making, many find themselves isolated because they have neither homes nor available families to share such times with.
At a time when children look to their parents for new clothes and toys, thousands remain on the street without shelter and with very little knowledge of where the next meal would come from.

As young as eight years old, some of these kids are forced to do odd jobs for survival In view of this, many organisations and individuals have taken it upon themselves to give such marginalised people a feel of the season by presenting them with assorted gifts items relevant relevant for marking Christmas. One of such groups that took the X'mas experience for these deprived individuals to a whole new level over the weekend was Korliba Group, popular known as KBA Group.

KBA is a Closed Facebook Group with almost two thousand members. Over the weekend, the group fed thousands of street children as part of their social responsibilities in a street possession that started from Kwame Nkrumah Circle and ended at Art Centre, Accra. Every street child spotted by the KBA train was given a sumptuous meal and a drink to mark Xmas and New Year Celebrations.
Even though the original plan was to feed children, many adults on the streets took advantage to help themselves to a meal and drink. With about forty excited members of the group present to add their support to the beautiful atmosphere by interacting with the kids and entertaining them with good music and dance, every route used by the procession was brought to a standstill as onlookers hand no choice than to watch and admire young people excited to share their little with the poor.

In a brief interview with The Admin and founder of the group, Ignatius Baidoo aka Mick More GH promised to make it a yearly affair and increase the numbers to cover more children in future. He used the platform to call on government to initiate programs and policies that caters for street children because every child deserves an opportunity to make it in life and those opportunities don't exist on the streets. He intimated that by looking on and seeing potentially great future leaders destroyed on the street, we are endorsing societal misfits who will come back to haunt us in future. He thanked members of the group for their selfless contributions in various forms towards the program and prayed God to bless them so that they can give even more in future when called upon. By: Isaac Kyei Andoh
Source: Isaac Kyei Andoh