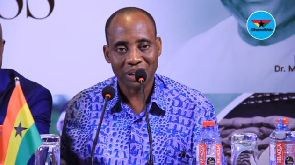 Ghana has, since 1985, not had a National Agricultural Census data, Dr Sagre Bambangi, Deputy Minister of Agriculture in charge of Annual Crops, has revealed.
He said the lack of adequate data in the sector has resulted in poor policy formulation because there was no reliable data to ground the policies on.

Government, he said, has worked tirelessly to ensure that the national agriculture census takes off. The census is currently in progress, and it is hoped that by next year, there would be adequate data to work with.

"All the data that have been put out over the years are all projections; we are hoping that a more reliable data will be available next year."

The deputy minister was speaking at the second edition of Ghana Investment Promotion Centre's (GIPC) CEO's Breakfast Meeting in Accra yesterday, which was on the theme 'Innovative Financing for Commercial Agriculture'.

He said there were a lot of challenges in the agriculture sector in terms of seedlings, harvesting and storage, among others.

He noted that government was putting in place a subsidy of 50 per cent on improved seeds to enable farmers to purchase good seeds for planting.
During the implementation of the 'Planting for Food and Jobs' programme, the Ministry of Agriculture realised that the demand for seeds was more than what the seed growers could supply.

"We have gone into some initiative to ensure that we build the capacity of seed growers and the research institutions to step up improved seed production."

Mr Yofi Grant, Chief Executive Officer of GIPC, in his welcome address, said government was trying to reposition agriculture as the foundation of its development, hence the initiation of the agriculture investment programmes by government.

"Agriculture is one of the main states of the economy and it is very important that we pay attention to it if we want to reach the level where we are all aspiring to get to, which is to change the face of commercial agriculture.

"Our agriculture has been subsistence and not scientific, which a traditional way of non-mechanisation and so we are not able to predict and determine the output in a very structured and constructive way. How do you enhance all that such that people see it as a more predictable source of cash flow?" he noted.

He said the whole value chain of agriculture was fragmented, and investing has becomes difficult because of challenges in the sector.
Mr Grant indicated that agriculture was the main pillar of Ghana's economy; therefore, the investment barriers need to be broken to make it attractive to investors.

He said there were significant opportunities that exist in the sector.

"Ghana spends $2.2 billion importing food when we have over eight million hectares of land lying fallow in the northern part of Ghana; it does not tell a good story of us. Ghana can easily become a bread basket for the sub-region because the land is there. The opportunities are in cattle ranching, animal husbandry, among others."

He added that there were also opportunities in technology to support agriculture, like Esoko. He said there was a lot more that can be done using technology to provide farmers with adequate information.