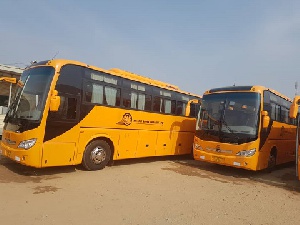 Government will this morning unveil 20 brand new air-condition buses for the Metro Mass Transit (MMT) Limited to augment its fleet across the country.
The new Daewoo vehicles, are the second batch of the 50 brand new buses the government promised in the 2017 budget to secure for the company, which has had some of its buses grounded due to old age.

This brings to about 500, the total number of buses currently being operated by the MMT across the country.

Finance Minister Ken Ofori Atta while delivering the mid-year review budget announced in July last year that the government was working to procure a total of 800 new buses for the MMT and the Intercity STC to strengthen their fleet.
"As part of Government's effort to improve public mass transportation, the Ministry initiated processes for the acquisition of buses for the two Public Bus Companies. The objective is to improve the current bus fleet of Metro Mass and Inter-City State Transport Corporation (ISCT). In all, a total of 800 buses will be acquired. These include 200 Compress Natural Gas (CNG) and 500 diesel buses for the Metro Mass Transit and the remaining 100 diesel buses for ISTC," he added.

The first fleet of 30 buses was delivered to the MMT on August 27, 2018. The buses are currently in operation.

A statement from the MMT Corporate Communications commended President Nana Akufo-Addo, the Ministry of Transport and Finance Ministry for the buses provided the company.