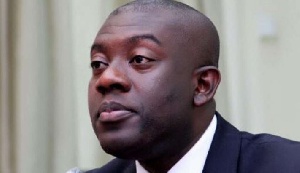 Government says claim by the Minority National Democratic Congress in Parliament that mobile money transactions would be taxed is false.
A Deputy Information Minister, Kojo Oppong-Nkrumah said on Wednesday that government has no intention to tax that sector now.

At round table discussion on the 2018 budget, the Minority criticised the government for planning to impose tax on the thriving mobile money business, describing it as "retrogressive".
"The intention to tax mobile money transaction must be abolished immediately, since it constitutes a serious threat to financial inclusion and economic growth in Ghana,"

Cassiel Ato Forson, Minority spokesperson on finance said on Monday. But Kojo Oppong-Nkrumah revealed that the yet-to-be read 2018 budget statement and economy policy of government did not capture that claim. He said the Minority's position was just a "distortion" of the 2018 budget and wondered where they got that information from.