NAM1 trial: Why Menzgold customers will undergo extra security checks before taking seats at court hearings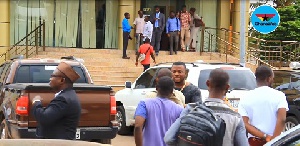 Scores of aggrieved customers of the defunct gold dealership firm, Menzgold, trooped the Accra High Court following Nana Appiah Mensah, the Chief Executive Officer of defunct Mengold, appearance in court.
The courtroom was filled to capacity as NAM1 made his third appearance at the High Court as the Prosecution offered to substitute the charges against him with a fresh set of charges.

However, a report by Starr FM disclosed that the lead Counsel for NAM1, Kwame Boafo Akuffo, raised some security concerns praying the court to maximise security presence while the case is being held.

Explaining further, he noted that te Public Relations Officer of Menzgold was struck on the forehead with an object by one of the customers after the previous court sitting.

Therefore, entry into the courtroom should be preceded by a proper screening in order to secure the safety of his client, the accused, as well as other court users such as the judge, the prosecutors, the lawyers, and the court staff.

Director of Public Prosecution, Mrs Yvonne Atakora Obuobisah, who led a team of State Attorneys from the Office of the Attorney General, did not oppose the request although she noted that she was unaware of the alleged assault.
Justice Owusu-Dapaah, consequently, directed the Registrar to set up additional police and security personnel to screen everyone whenever NAM1 case is on.

"Following the security concerns, the court directed the Police to take accused person out first before the customers followed," Starr FM reported.

State Prosecutors Substitute Old Charge Sheets

A new charged sheet was submitted in place of the old one which was filed on November 16, by the state prosecutors.

The state prosecutors led by teh DPP told the court that it as complied with filing disclosures and witness statements, noting that the accused has received them.
The DPP also told the court that a new charged sheet has been filed and prayed for the old charged sheet to be withdrawn for the accused to plead to them.

"The latest charged sheet filed on November 16 has 39 counts which comprised of a count each of selling gold contrary to section, operating deposit-taking business without license and inducement to invest. The others are – 22 counts of defrauding by false pretenses, seven counts of fraudulent breach of trust and seven counts of Money Laundering. Though the latest Charged Sheet is similar to the previous one, the GHc1.6 billion total sums in the previous charges sheet has reduced to GHc340 millions," Starr FM reported.

The case has been adjourned to December 4, 2023, for NAM1's plea to be taken on the new charged sheet.

Click here to follow the GhanaWeb Business WhatsApp channel

NOQ/KPE