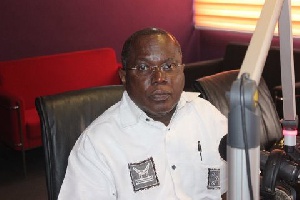 Fri, 23 Oct 2015 Source: GNA
Dr Nii Moi Thompson, the Director-General of the National Development Planning Commission (NDPC) has observed that the proposed 40-year development plan envisaged by the Commission should at all times be intrinsically relevant to the nation.
He said the document must also transcend all regimes.

Dr Thompson was speaking at the Sixth of the Regional Consultative forums on the Long-Term National Development Plan, held in Ho, on Wednesday.

He said the plan should inform the fundamental structure of Ghana's development, as in the case of South-Korea, like Ghana in 1960, had the same economic growth indices, but currently several steps ahead, indeed a benefactor.

Dr Thompson said one of the main differences between South-Korea and Ghana was that the many regime changes there did not result in any significant changes in the route to attain their set developmental goals.

He said besides the regional consultations, the NDPC would discuss thoroughly the risks posed to such plans, such as corruption, poor contract management, late and non-release of funds and weak monetary evaluation systems among others.
Dr Thompson mentioned infrastructure backup as the "spine of Ghana's long term development plan".

He listed law enforcement, civil registration, and land laws as other crucial components to spur planning.

Dr Thompson said he was hopeful that the regional forums and others to follow would raise enough questions to engender healthy discussions on the issue.

Ms Helen Ntoso, the Volta Regional Minister, observed that a long-term national development plan for the nation, "offers a long-term perspective by defining a desired destination and identifying the roles the different sectors of society needed to play in reaching that goal".

Dr William Ahadzi, representing the National Democratic Congress (NDC), said the drive towards a long-term national development plan was to enable Ghana to move from the current lower middle level income status higher, through a stable macro-economic environment, modernised agriculture, effective decentralisation, and better social services, among others.
Mr Kwadwo Afari, representing the New Patriotic Party (NPP), said the plan should be definite on the role of the private sector.

Nr George Agulijam, representing the Peoples National Convention (PNC), expressed misgivings about the late start of the Ho programme, expected to tackle a serious problem such as a national development planning project, which should reflect time consciousness.

Dr Kwesi Botchway said the country was yearning for a long-term development plan.

Dr Edith Tetteh, the NDPC's Volta Regional representative, who chaired the opening ceremony, said the contributions had been insightful and should help shape up national planning.
Source: GNA