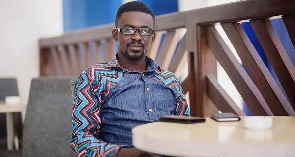 The state attorney has withdrawn all previous charges, opting to file new charges with amended figures against Nana Appiah Mensah (NAM1), the CEO of the now-defunct Menzgold, citinewsroom.com has said.
The Director of Prosecution, Yvonne Atakora, clarified that the adjustments were made to some of the amounts involved in the case, emphasizing that the decision was driven by the pursuit of justice.

The court has adjourned the case to December 4, 2023, providing NAM1's legal team with sufficient time to review the freshly filed charges.

The adjournment, requested by NAM1's lawyers and agreed upon by the state attorney, marks a crucial juncture in the legal proceedings.

Meanwhile, heightened security measures have been instructed at the court entrance by the presiding judge.

This directive follows an incident where NAM1's Public Relations Officer (PRO) was reportedly assaulted after a previous court hearing.

The courtroom, filled to capacity, witnessed an increased presence of security personnel both inside and outside the premises.
The ongoing legal battle stems from the suspension of Menzgold's operations in 2018, leaving aggrieved customers demanding the release of their funds amidst accusations of the company running a Ponzi scheme.

Nana Appiah Mensah faces allegations of defrauding over 16,000 people of GH¢1.68 billion.

Notably, the government has refuted claims made by NAM1 regarding a GH¢5 million deposit with the Ghana Police Service.

In response to NAM1's statement indicating the handover of GH¢5 million on October 20 for distribution to the firm's customers, the Attorney General and Minister for Justice, Godfred Yeboah Dame, clarified in parliament that only GH¢2.5 million was received.

"The record I have before me indicates that an amount of GH¢2.5 million was paid, so the claim of GH¢5 million having been paid to the Ghana Police Service is untrue," stated Dame.

The Ghana Police Service has since deposited the received funds with the Bank of Ghana.
Watch the latest edition of BizTech below:



Ghana's leading digital news platform, GhanaWeb, in conjunction with the Korle-Bu Teaching Hospital, is embarking on an aggressive campaign which is geared towards ensuring that parliament passes comprehensive legislation to guide organ harvesting, organ donation, and organ transplantation in the country.

NAY/AE