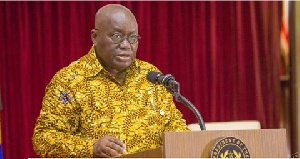 The One District One Factory Secretariat, implementer of the government's mass industrialisation programme in the 216 districts of the country, has recorded in a total of US$3bn in pledges, signaling strong foreign and local investor confidence in the much-anticipated project, Gifty Ohene-Konadu, National Coordinator, has said
"The program has so far generated investment pledges and commitments to a tune of three billion dollars (US$3billion). These are pledges made from local and foreign investors," Ms. Ohene-Konadu said at a briefing with journalists on the status of the programme at the Flagstaff House in Accra.

Interest in the programme has been impressive, according to the project secretariat, with over 310 enquires recorded. A total of 40 business plans are currently being reviewed of which the majority are coming from the agro-sector.

According to Mrs. Ohene-Konadu, financial support for the programme will range from US$5, 000 to US$5 million, depending on project size and operational categorization; with an exit plan that allows the government to sell its equity stake on the Ghana Alternative Market (GAX) after a five-year period.

She announced that the project will take-off fully by mid-year, with ten factories expected to be inaugurated to mark the official commencement.

"This is a project that targets the district level to ensure that every local government area would be on the way to a certain level of self-sustainability; this is a far-reaching vision with unquantifiable benefits. It will add greatly and effectively to the country's Gross Domestic Product (GDP) and all other positive growth indicators as well as energise stakeholders in the industrial ecosystem."
President Nana Addo Dankwa Akufo-Addo promised the establishment of "one district, one factory" as a sustainable means to open up the rural economy through massive rural industrialisation and to create the much-needed jobs for the youth.

Based on projections from the Ekumfi Pineapple Project, the district industrialization project has been tipped to provide about 6,000 direct jobs per district.

Though the Ghana Exim Bank has been selected as the main bank for the implementation of the programme, the secretariat says it is open to banks that want to partner and expressed their readiness to engage the Venture Capital Trust Fund.

The project has been hugely welcomed by the business community as key associations, including the Ghana National Chamber of Commerce (GNCC) and the Association of Ghana Industries (AGI), have banked their hope on the initiative to revive failing industries and bolster the quest towards an export-led economy.