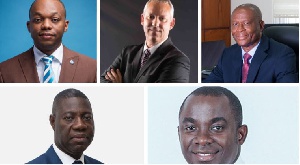 On Wednesday, governor of the Bank of Ghana, Dr Ernest Addison announced that it has revoked licenses of five banks and put them together as Consolidated Bank Ghana Limited.
The Banks are uniBank Ghana Limited, The Royal Bank Limited, Beige Bank Limited, Sovereign Bank Limited, and Construction Bank Limited and has appointed Mr. Nii Amanor Dodoo of KPMG as the Receiver for the five banks. The affected banks were insolvent, the governor in his summary noted.

The banks will now be operated under the Consolidated Bank Limited. The governor was asked if the move would lead to job losses and in his response, he said, ''all staff of these banks will become staff of the Consolidated Bank, however the Boards of Directors and shareholders of these banks no longer have any roles.''

However, an economic analyst, Jerry Afolabi is predicting huge job loses. He suggest over 2000 people are going to loss their jobs because these banks are having a number of branches and it will not make business sense to operate all of them and so, there is going to be huge job losses.''

He called on Ghanaians to commend the BoG for the decision to consolidate the five banks. BEIGE, Construction and Sovereign Banks obtained their banking licences under false pretences through the use of suspicious and non-existent capital. In the case of Royal Bank, an on-site examination conducted by the Bank of Ghana in 31st March, 2018 revealed a number of irregularities.
Its non-performing loans constitute 78.9 percent of total loans granted, owing to poor credit risk and liquidity risk management controls. uniBank has a capital deficit of GHc7.4 billion, compared to the regulatory minimum of GHc400 million.



Shareholders, related and connected parties had taken amounts totaling GH¢3.7 billion which were neither granted through the normal credit delivery process nor reported as part of the bank's loan portfolio.

In addition, amounts totaling GH¢1.6 billion had been granted to shareholders, related and connected parties in the form of loans and advances without due process and in breach of relevant provisions of Act 930.