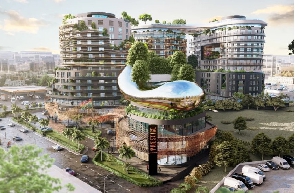 The real estate sector has become one of the main investment destinations for private capital in Ghana.
It offers good and steady income in an increasingly urbanized country where demand for high-end and middle-level accommodation in the capital city, Accra, remains high.

The Ghana Real Estate Developers Association (GREDA) projects up to a 25 percent per annum rental yield on general real estate investment. Investing in The Prestige project, to be sited within the Kotoka International Airport City 1, offers one of the best Returns on Investment (ROI).

With a steady Foreign Direct Investment (FDI) inflow, the demand for world-class residential accommodation closer to amenities such as the Kotoka International Airport, hospitals, top-of-the-range restaurants, shopping centers, and recreational areas for expatriates and business leaders remains high.

The Ghana Investment Promotions Center (GIPC) data shows that in 2022 the Country recorded foreign direct investment (FDI) totaling US$1.35 billion. The main beneficiary sectors were services, manufacturing, general trading, export trading, oil and gas, agriculture, and building & construction.

The stability of the country's political environment and its relatively high returns on investment make it an attractive destination for real estate investors. According to i2 Development's Founder and Chairman, Nabil Al-Ahmad, in a highly sought-after neighbourhood such as Airport City I, an investment in The Prestige project's studios and 1-bedroom apartments, starting from 28 sqm to 77 sqm, can fetch owners between $150 and $200 per day.
During peak seasons such as summer and December, the price per day can range from $200 – $300 per night. At an estimated minimum occupancy rate of 65 percent per year, that will generate about US$50,000 to 65,000 in rental income.

With the level of interior sophistication expected when The Prestige project is completed, it will offer the best entry into investing in real estate for young business executives with a penchant for sophistication in a truly up-market location.

In this new development, everything is a minute within reach in a traffic-prone city like Accra. For frequent business travelers to Ghana, they will have the best option for luxurious living and meeting up with like-minded business executives.

The digitization of real estate processes is gaining momentum in Ghana. Online property listing platforms, mobile applications, and digital property management systems are improving transparency, efficiency, and access to real estate information. This trend fosters growth and facilitates transactions within the sector.