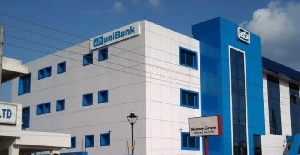 Economist Professor John Gatsi has challenged the Bank of Ghana to publish the report of KPMG on uniBank.
He says such a move will help ensure transparency in the actions of the Central Bank towards uniBank since KPMG was assigned the responsibility of looking into the affairs of the indigenous bank.

The call comes after the Bank of Ghana announced the amalgamation of uniBank and four other banks into a new brand name Consolidated Bank, after they were found to by struggling with liquidity issues.

Announcing the move, the governor of the Central Bank Ernest Addison said, "To help ensure that the banking sector maintains a strong indigenous presence, the government has established a new bank called Consolidated Bank Ghana Limited which will act as a bridge bank pursuant to section 127 (11) of Act 930, to assume some of the assets and liabilities of the five banks. The Government has capitalised the new bank in the amount of GH¢450 million and the Bank of Ghana has issued it with a universal banking licence with effect from 1st August 2018."

The Central Bank, he further stated "has also approved a Purchase and Assumption Agreement between Consolidated Bank and the Receiver for the five banks. Under the Agreement, Consolidated Bank has acquired all deposits and other specified liabilities, and good assets of the five banks. To finance the gap between the liabilities and good assets assumed by Consolidated Bank, the Government has issued a bond of up to GH¢ 5.76 billion."

Speaking to Francis Abban on the Morning Starr Thursday, Prof. Gatsi said the BoG will have to show Ghanaians the exact recommendations made by KPMG in relationship to unibank.
"We are eroding the indigenous banks in the sector. It is time for the BoG to show that can salvage these banks. It has been done in other countries and we can do it too. Did the BoG accept the report from KPMG? If they did, where is the report? The people of Ghana are interested in the report. The only way uniBank will not collapse is to get the debt owed it paid; that was what we were told," he said.

KPMG was appointed official administrator for uniBank in May this year.