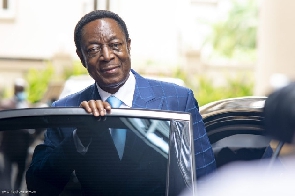 Wed, 25 Jan 2023 Source: Maxwell Okamafo Addo, Contributor
Former finance minister, Dr Kwabena Duffuor has called for a review of government's Domestic Debt Exchange Programme to avert a collapse of the financial sector.
According to him, government must rethink the strategy and engage thoroughly to ensure the programme is sustainable and one that does not erode gains made in the financial sector.

Speaking in an interview with Accra-based JoyNews, the former former finance minister who is contesting in the flagbearership race of the National Democratic Congress raised concern about the inclusion of shareholders in the DDEP.

"You cannot deal with my caretaker when I have not been consulted. At the end of the day, it will fall on me the shareholder, so there is the need for them to be part of the broad consultations to express their views." "If you don't manage the domestic debt exchange programme properly, the financial sector will be weakened in such a way that it won't be able to perform the role that it is supposed to perform" he explained.

He added that various calls made by stakeholders for government to have a round table discussion with private entities will help in the successful implementation of the programme but if government continued on its current path, the financial sector will be put in harm's way.
Dr Duffuor however charged Ghanaians to treat the matter with all seriousness and speak up to protect the country from the dire consequences the debt exchange programme will bring in the near future.

He explained that government's decision to include insurance claims might cause problems for financial institutions as they would have to look elsewhere for monies to pay their clients.

He cited the bond of GH¢1.7 billion as an example and the premiums collected at the present which are now in government bonds.

Dr Duffuor further expressed concern about the already dwindling confidence in government instruments and cautioned that if the debt exchange programme in its current state was not reviewed, there will be no motivation to buy treasury bills in the near future.
Source: Maxwell Okamafo Addo, Contributor