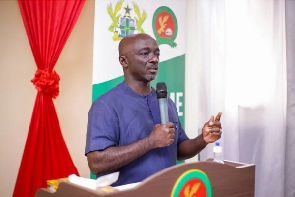 The Director General of State Interest and Governance Authority (SIGA), Edward Boateng, has retired from office after attaining the statutory retirement age of sixty (60), Asaase Radio has reported.
The former Ambassador to China attained the retirement age of 60 back in June this year but was granted an extension till November 2023 in order to complete certain key initiatives under the Authority.

According to a memo sighted by the portal, Boateng has handed over to Hollistar Duah-Yentumi who is the current General Manager in charge of operations at SIGA.

"Given that you attained the statutory retirement age of sixty (60) years in June 2023, you are required to hand over your office to Ms. Hollistar Duah-Yentumi, the General Manager (Operations), proceed to collect any terminal benefits due to you," the memo from the Office of the President is said to have read.

"Kindly hand over your office to Ms. Duah-Yentumi by close of business on Friday, 17 November 2023. The President thanks you for your service to the nation and wishes you the best in your future endeavours," it added.

Prior to serving as SIGA Director General, Edward Boateng was appointed as Ghana's 15th Ambassador of Ghana to the People's Republic of China. During the tenure, he had concurrent accreditation to the Republic of Mongolia and the Democratic People's Republic of Korea from June 2017 to November 2020.

He took over SIGA as the Director General in December 2021 after replacing Stephen Asamoah Boateng.
SIGA seeks to facilitate performance management in SOEs and other prescribed bodies, within the framework of Government policy, to ensure that they operate efficiently, effectively and profitably thereby contributing towards the socio-economic development of Ghana.

MA/AD

Watch the latest edition of BizTech below:



Click here to follow the GhanaWeb Business WhatsApp channel

Ghana's leading digital news platform, GhanaWeb, in conjunction with the Korle-Bu Teaching Hospital, is embarking on an aggressive campaign which is geared towards ensuring that parliament passes comprehensive legislation to guide organ harvesting, organ donation, and organ transplantation in the country.